Over the Hill Classic Trucks!  is where you can get used parts for your classic or 'over the hill' truck. We sell parts for repair and restoration, and we have saved some trucks if you are looking for a project. Our inventory has a large selection of body, trim, and driveline parts already removed from trucks that have been 'recycled'.
PROJECT TRUCKS
1978 FORD F-700            $5500.

1978 FORD F-700 Louisville   ONLY 69625 original KMs. 370 4V (Gas), 5-speed, 2 spd. rear. 16′ McCoy Bros. box and hoist. 10.00x 20″ rubber. New fuel pump and hose connections. Just add fresh gas and a battery.  Very little needed to get ready to work.

1988 FORD F-250 4×4             $OLD!!!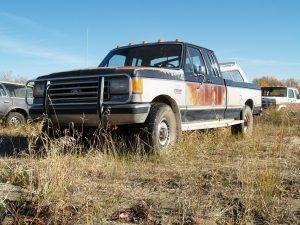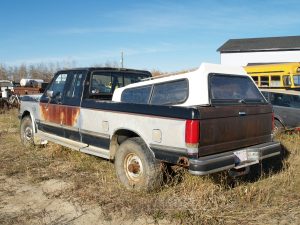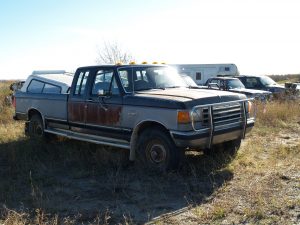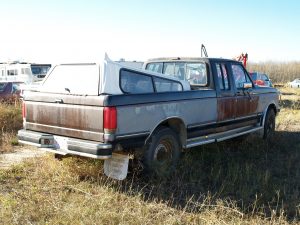 1988 F-250 Super Cab 4×4
This truck is a brute. 460 V-8 gas. Auto trans. Truck last ran by priming the throttle body- needs a fuel pump! Body is solid and straight with only 'patina'. The deluxe cloth interior is in good condition.  $OLD!!!!
1976 DODGE  B300 van          $OLD!!!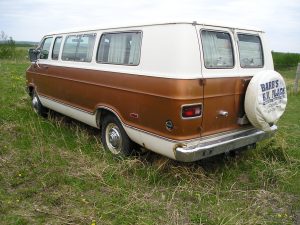 1976 Dodge Sportsman 300: Only 73676 miles!  360 v-8, auto, 3.54 axle. Minor steering damage from curb hit. Ran good until ran out of gas. Body has minor rust. Deluxe interior in good condition. (headliner had dropped). Easy restoration. Good getaway machine or a tow vehicle for your favorite MOPAR.
1949 FARGO 1 Ton  

SOLD!!



One of those 'made only in Canada' models.  This was a one family owner truck from a farm by Drumheller Alberta, so this truck has likely never seen road salt.  Aside from the surface rust (patina) if you swing that way, the body is solid.  The original engine was turning over the last time I tried it.
Most old trucks like this are a 'labor of love' due to the fact that you will likely not recover the money you invested in the project.  HOWEVER, the way to add significant value- and perhaps a profit- is to build to a theme: something that is historical or nostalgic.  Canadian Pacific Railways is one such Canadian Icon.  Have a good look at the train model picture.  $OLD!!!   gets this dream started.
1971 FARGO 300                $1100.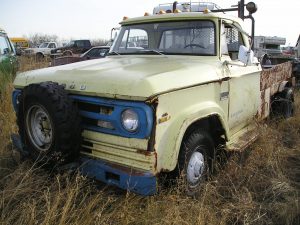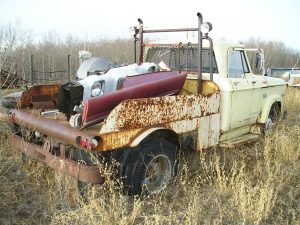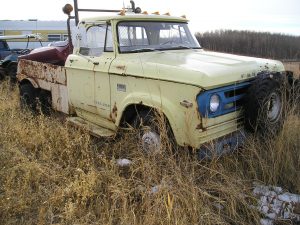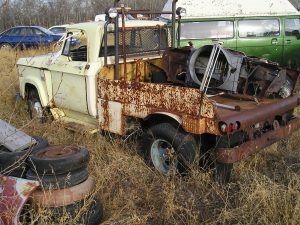 ONLY IN CANADA, YOU SAY?  In this business, if you use the terms never and always, you sometimes wind up eating those words. Case in point, this FARGO truck was built in Warren, Michigan and not in Windsor, Ontario. Probably why the FARGO nameplate disappeared after 1971. This 'gently used' former City Of Calgary service truck was used as a tow truck by an old friend of mine for his auto and truck repair business.  It was retired when my friend quit the business. It needed no major repairs at the time, but hasn't ran for over 10 years. The drivetrain consists of a 318, 4-speed, with a 4.56 rear. Selling as shown for $1100.
1964 DODGE 400              $800.

                




M M MAGIC BUS:  1964 DODGE 400.  Was nicely camperized back in the day, but requires some maintenance and renos.  I used this bus for an office years ago.  Powered by a 'wide block' 318 V-8. 4speed.  The bus needed brake and exhaust work when I bought it, but the engine ran good.  Want to re-live some of your miss-spent youth or just go camping in style?  $800. gets you started.

1980 SCOTTSDALE K/20            SOLD!!!



This '80 Chevy is the perfect project truck for those who long for the time before political correctness and climate change.  If you would like to run over a Prius or some other 'hybrid', just add a drivetrain and hit the street. (The truck is currently a rolling chassis).  The suspension is lifted with springs, rides on 35″s.  The body is good with minimal rust and damage.  There is also a 3″tube roll bar in the box.  As shown:  $SOLD!!!
1976 Chevrolet Scottsdale K/20

Selling the chassis only. The body was used on other projects. What you see in the chassis shots is what you are buying. 14 bolt rear, 12 bolt front diff. (Looks to be 4.10 ratio.) Trans crossmember, Factory lifted with springs. Solid, straight frame.  $800.
1977 FORD F-250 XLT          $800.
This '77 F-250 was originally purchased for the engine and it was hoped someone else could use the rolling chassis and body. The original C6 trans is still in the truck. A few small parts have been sold off in the years since the photos were taken.  The cab and interior are in good condition. A pair of new cab corners are included. Interior colour is green BTW.  I gave some thought to dropping the cab on a one ton chassis I have- but I should live so long.  If anything here appeals to you, give me a call.  Jeff@ 403-343-6377
1985 S-10 Blazer        $OLD!!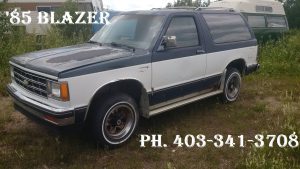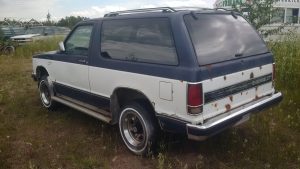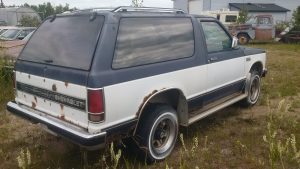 1985 BLAZER 2wd.  These mini-SUVs make great hot rods. Just dump in the V-8 of your choosing and enjoy a high power to weight ratio. I know from experience. The original 2.8 V-6 died years ago and a number of parts were sold from the truck before I decided it was worth saving. The body is good except for the rusty 1/4 panels. (Reproductions are available for cheap.) The interior is good, but needs a speedo cluster. (Sold or stolen a few years ago.)
$OLD!!   But wait!  I have another '88 I would part with.  Photos coming soon!

1967 CHEVY C/30  HD         $OLD!!!
'67 to '72 Chev pickups are insanely popular these days, and prices are a reflection of the fact.  This is a Heavy Duty model with 18″ ten stud wheels, with an 11,000 GVW rear axle setup.  There is a 283 under the hood with the old Farm truck Muncie transmission.  The rear differential has a crazy low gear ratio. There is a McCoy hoist for the rotted away wooden grain box.  The cab looks good from afar, but is FAR from good.  The front clip is restorable.  This would make a great project if you are wanting to build a hauler for your other interests.  $OLD!!  asking price: low-ball offers will be turned down.
1970 CHEVY C/30  HD          $OLD!!!

Although GM never used the HD designation until years later, this 11,000 lb. GVW one-ton fills the bill.  Factory equipped with a 350 and a 4-speed transmission.  The rear gear ratio was 6.17 to 1, for sheer brute pulling power. (Code H22)  The 18″ Kelsey Hayes wheels had 10 studs instead of the usual 8. Hidden beneath the beige paint is the original factory code 1001 LA Special Paint. (LIME) 

$OLD!!!



1980 SCOTTSDALE 3+3     SOLD!!!
Pictures don't do this '80 Crew Cab justice. Most of the rot visible is only surface rust. The bondo that has fallen off was fairly thin. The worst rust is on the driver's side rocker panel and a small part of the floor pan in that area. It has a surprisingly good interior (blue cloth seats with white headliner). There is an Olds 350 under the hood with a freshened TH 400 that was swapped in, but never hooked up. Asking price is $OLD!!

1987 Ford E-350        $1500.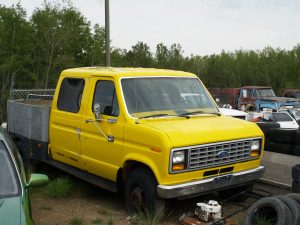 This was a local tow truck with a great history.   The 460 (on propane) needs a new timing gear set to get running again.  This is a rare aftermarket conversion that is fully decked out inside to haul family or friends.  Selling as-is for $1500.  Price is firm.
1981 CHEVROLET Silverado Camper Special              SOLD!!!

Looks like the original 'Grandpa Truck' with its camper mirrors and running boards.  The only major rust is above the wheel well openings on the box. The rest of the body appears solid.  The interior is thrashed with some velour on the door panels and headliner. The cloth front seat is worn.  This was an original diesel truck, but has a 350 under the hood. It runs but needs carb work. The TH400 trans is too low on oil to try driving. This is a 2 wheel drive truck with a 14 bolt rear diff.  $OLD!!!
'LATE' Model 'PROJECTS'
2001 DODGE Ram 1500  SOLD!!!

A lifted 4×4 with springs and a proper lift kit. The front diff will need an axle and bearing retainer to get rolling again.  It has a 318 Magnum engine backed by an MV 3500.  The rear diff is a 4.56 Posi. The body and interior is in fair condition.  You could buy it and part it out, or build yourself a budget work truck or bush basher.  $OLD!!!  as shown.
1999 FORD Expedition   SOLD!!!

Long story made short: This '99 Eddie Bauer Expedition has 'theft recovery' type damage: broken rear window and mangled ignition switch. **(NOTE: Broken rear window has been replaced.)  I was able to power up the truck enough to roll up windows, but the security system would not allow the vehicle to start.  Selling 'as-is.  (Not flagged as a write-off.  Alta reg'd.)

1997 Ford F-100  SOLD!!!

This '97 F-100 tossed a rod while warming up one morning.  The body is in very good condition, and the interior is in good shape. The original powertrain was a V-6, 5-speed.  You could find another V-6 or swap in a 4.6L Cop-Car engine (available elsewhere on this site) to build a Fast and Furious shop truck.  Sell as shown: $OLD

1997 FORD F-150           SOLD!!!


This '97 F-150 Super Cab short box was a one-owner truck.  The body and interior are in immaculate condition as the heavy-duty mechanic owner maintained this unit to a high standard. The cam phaser in the V-6 let go just as the owner had to return to work. He chose to buy one last new truck instead of do the repair.  The engine is repairable, or you could swap in a replacement V-6 or 4.6L V-8 (see above).  Sell as-is for     SOLD!!
TRUCKS FOR PARTS

Chevy S-10 & Blazer.  GMC Jimmy
If you see something you need, give us a call. 403-343-6377
Jeep Cherokee for parts


Green trucks are '93ish. Lots of good parts left. 6cyl. std. These are older images, so some parts shown may have been sold. Phone 403-343-6377 for parts inquiries.


OBS (Old Body Style) FORDS '87-'97 F-series

DUE TO A NUMBER OF 'PHOTO REQUESTS', I am posting some images of CABS and SHEET METAL available for sale.  The CAVEAT here is that due to the labour costs involved, the only way to avoid 'paying through the nose' will be to remove the items yourself or buy the donor vehicle complete as-is.

1987 F-150
1991 F-150
1992 F-150

 

(All front sheetmetal is sold.) Good pair of power doors. Cab is savable.
Call 403-343-6377 for parts inquiries and pricing.
1997 F-350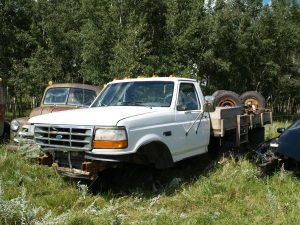 1997 F-350:  Available body parts are the Driver's door (with mirror attachment holes)  and the cab itself.  It could use some rocker and cab corner repairs. 

1994 F-150

1994 F-150 (with topper) has an EXCELLENT cab and doors. Rust on floor pans is surface rust only! The inside of the box is similarly clean. (Had a topper and plastic box liner from new.)

1994 F-150 4×4- Selling whole only.

 

1994 F-150 4×4:  Cab and fenders in great shape, but pass door and fender require work as door and fender kinked in minor fender bender. Replacement front bumper is included.
Truck has 4.9L (300ci) I-6 5-speed. Was running when I got the truck. 
FYI:  Truck was Sask reg'd. and clutch is shot.  $1500. Call for more information.  403-343-6377
1995 Dodge 2500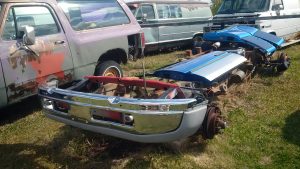 1995 Dodge 2500 To make a long story short, the lead image is what remains of this truck. Available (second gen) parts are the rad support and bumper. The '99 rear half doors are available for sale.
Phone for info. 403-343-6377
'87 Ramcharger
Ford 1 Ton
'04 Dodge Ram 1500   SOLD!!!

2004 Dodge Ram 1500 4×4.  5.7L 'Hemi. auto trans. (cores only).  Good T-case, front axles new, rebuilt rear diff. All body parts in good or better condition.  Grey cloth interior in good shape. SOLD!!!
 PARTS GALLERY

'73- '79 FORD  factory topper.
(Topper picture taken same day box was sold.)

'67  FORD 8′ box
Little to no rust or bondo. The floor has a narrow strip of rust over a support brace that should be easily repaired. $OLD!!
'79-'87 Longbox (8′) Box Side  $OLD!!

RUST FREE box side. 1 dent above gas filler door on body line. Easy to repair.  $400. as shown. (Mag wheel not included.)  The pass side box side is available but damaged by brush with guard rail. No pictures available at this time.
'73-'87 8′ Step Side Box: as shown  $OLD!!


Non- fendered box has rust free, straight sides. White box may have some usable parts, but is otherwise junk.