ONE
of the 'benefits' of my 'day job' is that I get to save some collectible vehicles from a date with the crusher.  There are times when I have stepped up and bought something I always wanted only to find something else I liked better.  One comment I often hear is that places like mine don't exist anymore.  This, unfortunately, is true.  Between government legislation and economics, local 'junk yards' are becoming a thing of the past. I face the reality that it takes a few thousand dollars a month just to keep the gate open.  I cannot do this without your support.
1939 Plymouth Coach:  Looking for something out of the ordinary with room for family and friends?  If you have the skills, this is a great start for a street rod project. It comes with extra parts from a 4 door we scrapped.   $1200.
1941 Pontiac 4dr Sedan:  Aside from the missing glass, this car is fairly complete and the body is surprisingly solid,would make a great project . 

SOLD!!!



SOLD!!!
1953 Olds 88:  This Olds would make a great parts car as most of the sheetmetal is rust-free and straight.  Most of the chrome trim is with the car (including hub caps). However, you could also easily construct a vintage 'stock car' or jalopy racer by adding a roll bar and a bomber seat, and by swapping in a 'rocket V/8' of your choice. (We have a few for sale.) Price as shown:    $OLD!!!



SOLD! SOLD! SOLD!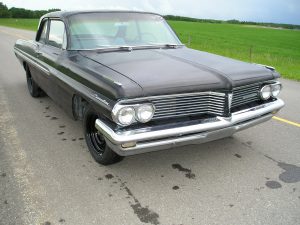 1962 Pontiac Strato Chief 2 dr Sedan:  This is a real-deal EX-Police Car.  This Canadian Pontiac came with a Chevy drive train from the factory, but GM Canada stroked the engines out to 261 cubic inches for more torque.  This car is a rolling chassis with no drivetrain. The body is in good, unrestored condition, but the front clip and trunk lid were replaced.  You can buy the car with original style 14″ wheels for $2250. or with the Corvette Ralley wheels and Cheater Slicks for $3500.

 

SOLD!!!



1962 Pontiac Strato Chief Safari:  Station wagons were the original SUVs for hauling family and goods.  Today, they are popular for their historical and odd-ball status. This is a good example of the ('58-'64) X-frame GM body.  It has rust in the typical places, but is very restorable.  Some parts not seen in photos are inside the car.  $1500.



1965 Plymouth Sport Fury Convertible:  This car checks a lot of boxes for collectability:  Big Block V-8, 4-Speed transmission, convertible, Factory BLACK paint.  Just these factors alone make this car 1 of 13 built in 1965!  (source: Chrysler warranty information.)  This car is further optioned with power windows and Gold colored vinyl interior.  Information from the VIN plate shows this car was built at the Windsor Ontario plant.
This looks to be a complete, numbers matching unit. (383 Commando V-8, A833 4-speed.) It NEEDS a complete professional restoration to realize full value and do this car justice.  It comes with a Sport Fury hardtop included in the price.   Asking price is $OLD

1966 Ford Falcon Futura


1966 Falcon 4door:  Parts car, right? Nope.  When was the last time you saw a 2 door Falcon? And, for how much? 4 doors are that new 'entry level' hot rod. If you want a 'stand out' machine, build a Mad Max interceptor. This body will accommodate anything from an inline 6 to a 428 Cobra Jet.  $995. G'day mate.
1966 Impala x2           SOLD!!!




Impala Two-fer:  Impala coupe body with trunk floor replaced by professional restoration shop. Needs some 1/4 panel work.  Parts car 4dr. hardtop has a good frame, 12 bolt (open) diff, 283 and powerglide. Some extra parts from loose inventory goes with the pair. $OLD!! for the package.
***update:  the coupe has been united with the 4 door frame and is now FOR SALE on kijiji  and on Perry's Project Cars. Great bones for a restoration!
1968 BUICK LeSabre (two-fer)   
Two-fer: Package deal- 2 for price of one.   1968 Buick Le Sabre fastback hardtops. Restoration started on maroon car- has rust repair panels on rear 1/4s. Brown car has the 400ci Buick engine. (Think GS skylark) The maroon car has a 350 Buick. Running cond. unknown. (No keys.) Both cars have some repairable frame rust. Two parts cars for a reasonable price, or restore one if you have the welding skills- or know somebody.
$1500. for the pair.
1968 OLDS VISTA CRUISER
This is another 'package deal. Both cars for one price: $2500.  The blue car has a 400″ Olds engine, good trim, interior, and glass.  The white car is less rusty and has a 350″ Olds engine.  You decide which one you want to fix. Also included is some spare glass and trim from a BUICK Sport Wagon.
If you have a rust-bucket project car that is good mechanically, this rolling shell is a good start for a 'body replacement'   It needs only minor panel replacement and a drivetrain.  Think of the body shop labour costs you could save.  Just $750.
1973 Olds 442             $2500.
Some people will tell you that the 'performance' era ended in 1970, or if they are generous, 1972.  An overlooked fact is that horsepower ratings took a dive in '72 when Detroit changed horsepower rating from 'gross' to 'net'.  Net ratings included the stuff on the engine to run the accessories rather a straight up engine dyno pull reading.  1973 brought some revolutionary styling in the GM mid-size lineup.  Unfortunately, some cars were saddled with clunky looking and heavy bumpers although actual vehicle weights were similar to the previous years models.  The OLDS 442 could be had with the 455 and cool things like swivel seats.  This car was built in Lansing Michigan and came originally with a 455. It comes with a '73 dated 455 Marine engine (warranty replacement for a '73 Delta 88).  It also comes with a Cutlass S coupe parts car to aid in the restoration.  Package price: $2500.

1974 MUSTANG II    $OLD!!!

Some regard the Mustang II as an over-stuffed Pinto rather than an attempt by Ford to return to the 'pony car' ranks as the Mustang had grown rather large in the '71- '73 models. The first models featured the 2.3L four and a 2.8L V-6.  Ford soon discovered the folly in not having a V-8 in the lineup.  The 302 was a tight squeeze- although I have seen a car sporting a 351 Cleveland without any hammer marks.  These cars got an undeserved bad rap as their front suspension is pretty much the standard for the aftermarket.


This car was intended to be a driver for my wife with a 5 litre swap, but I bought a Trans Am before the project progressed too far.  The original 2.8L V-6 auto is long gone. The differential was replaced with an 8″ rear from a "75 Comet.  I bought NEW 5 lug Mustang II rotors. The body and interior are in good condition.  $OLD!!!

1975 MONZA 2+2      SOLD!!!


1975 Monza 2+2: Retired Street Racer. Last reg'd 1978. RUST-FREE body. Stored inside 30+ years. Body has minor dents from storage and 1/4 panel damaged when kicked by a previous owner. Glass and interior is good.
Selling as a rolling body with no engine or transmission. Has 3.73 posi rear. 5lug S-10 axles. Was set up for a small block/ 400 turbo.         $OLD!!!

1977 BUICK SKYHAWK

                                                                                                              1977 Skyhawk : The Chevy Monza's cousin. The teal coloured car has the rare 'ASTRO VU' C06 glass roof option- one of 2012 produced. Note the white vinyl interior that came with a body coloured Corvette syle steering wheel. The original engine is long dead, but the car will come with a 3.8L engine from a '79 LeSabre Turbo Coupe. (Turbo included)  $1500.
The brown car would make a good, low buck street screamer with a drivetrain transplant. SOLD!!

SOLD!!
Chevrolet offered the Monza Spyder as a 'sporty' compact car and a pseudo- muscle car for those who were too young too know what a really fast car was.  Due to attrition, these cars are now collectible in stock, original form.  If you aren't inclined that way,  this is also a good platform for some home-built performance.  This is a V-6 version (with a rod-knock) with an auto trans. The body does need rust repair, but the doors are solid.  The interior and glass are good.  $OLD!!!
1980 PONTIAC SUNBIRD            $1500.

Pontiac's version of the Chevy Monza complete with Firebird inspired styling. This car was going to be a friend's 'someday' project until his priorities changed. This is a very clean body shell with a nice dark blue cloth interior. The original V-6 may run with some work. The trans is an automatic. The odometer reads 23824 kms. assuming it has 100kms more than that, it still translates to roughly 75,ooo miles.  Great deal for the asking price.
1979 Mercury Zephyr Z-7

ZZZ Zephyr… Corporate think:  Take a nameplate from a crappy Ford of England import and think that it will sell cars a couple decades later. Uh huh. Aside from that, the Zephyr/ Fairmont  Fox Body wasn't a bad car. I always thought these cars had great hot rod potential as NHRA Pro Stock Champion Bob Glidden campaigned a Fairmont Futura for a couple of seasons.  This didn't change the fact that street versions were aimed at the office professional set.
This car was a running, driving 6cyl. automatic.  The body was pretty much rust free except for a hole in the pass. front fender. The interior was in decent shape at the time.  Remember that the Fox Body engine bay can hold anything from a 2.3L to a Big Block.  Buy it now: $1100..
1978 CADILLAC ELDORADO           $OLD!!!
Estate Sale Cadillac:  This car was bought new by a friend of my father.  It was running and driving at the time I bought the car.  If memory serves, it did need brake work. The engine is a 425.  (Cadillac downsized the engine in '78 for better fuel economy- yeah right.) The body is in decent shape, with some surface rust.  It has a brown leather interior. This is a car that screams for a satin black overcoat and a wild set of wheels to create a sinister cruiser. Or, get your pimp on and paint this car with some GOLD METALFLAKE.
$OLD!!!

1978 Lincoln Continental MK. V
1978 was the last year for the 460 in the Continental. It was also Lincoln's 'Diamond' (75 year) Anniversary. This is an 'older' restoration in need of some cosmetic and  mechanical restoration: The vinyl top needs replacement and the paintwork needs some touch-up work. The car ran and drove beautifully and was appraised at $10,000. when I acquired it. It did need a brake line replaced when it was last driven. Odometer reads 143346 kms. $5500. FIRM.
1979 Lincoln Continental MK. V

This Lincoln

came to me as a result of a friend deciding he needed to save his marriage.  At the time, the body looked good (from 20 feet) but it was apparent that there had been some shoddy bodywork done on it. Look at the bottoms of the fenders and rear 1/4s.  The car ran and drove very well with the 400cid. engine. The interior is in excellent condition and the glass is good.  To discourage the demo-derby crowd, my bottom dollar on this car is $1200. We also have another MK V for parts to restore this beauty.



This Monte Carlo was one that I had set aside for a future project.  Since I no longer expect to live that long,  it is now For Sale.  This car has a number of similarities with my '77 Caprice like the silver body, and the pimpy red velour interior.  The body and interior are in decent condition.  The 267 c.i. V-8 under the hood is likely past its expiry date and a 350 turns these cars into a hot rod. $1500.



One of the neat things that Oldsmobile did in the late '70s was bring back some well respected name-plates like:  442, and W-30.  A few years later, they brought back the Hurst Olds.  While you would have a hard time comparing these cars with their storied predecessors, the bones were there if you had the inclination. This '80 W-30 442 has more than the stickers and badging.  Under the hood is a real-deal 455 with an Edelbrock manifold.  This car needs somebody to bring it back to life. Are you that somebody? $OLD!!!



SOLD!!!
If you want to have a 'stand-out' car at the local show and shine, this is it:  Station Wagon,  MOPAR,  good body and interior. This car features a solid, mostly rust free body, with a good interior.  Mechanically, it needs a transmission. (I have one- included with the sale price.)  The '10 spoke' wheels in the photos are included and would bring tons of Mopar cool with low-profile tires. The torsion bar suspension can be easily lowered to provide a better street stance.  What's holding you back? Only $OLD!!!
Some people will tell you the '80s sucked.  I disagree.  Some of the cars (like the 'G' body GM) were a lightened-up and stylish departure from the bumper laden and slovenly offerings from the previous decade.  The only thing lacking was good, old horsepower.  A friend of mine cured that with his Cutlass Brougham coupe.  He installed a W-30 455 with a lumpy cam, dual 4-barrels, and headers to build a world-class sleeper.  This Cutlass S t-roof has a 455 that I swapped in from a Delta 88 Royale that was destined for a demolition derby.  The trans is a B-O-P TH350. I did not complete the swap as my intention was to put the car together so the next owner could finish and detail the car to suit their taste.  The body has minor rust, and the interior is rough, but I have 2 vans full of interior parts. (Needed parts included in Price) $2500.



1982 Ford EXP

1982 Ford EXP:  Cute 2 door commuter car that died from poor sales figures. It wasn't marketed as a sporty car, but British versions of the Escort could be had with serious muscle.  Gapp & Roush ran one in Pro Stock, and Jack Roush reportedly built a street racer with a 429. The EXP has a clean body as the engine died at an early age. The Escort GT is included in the price if you want to restore the car with an original type engine.  $1200. for both.
 SHELBY!!!

 For some of us, this is as close as we will ever come to owning one of Carrol Shelby's cars.  This '83 Shelby 2.2 Charger is restorable with minor rust and body damage. It may run as the previous owner was planning to make an ice racer out of the car. Was even in touch with the original owner– (He was too cheap too buy it back for his wife.) $995.

1983 RAMPAGE               $600.
1983 RAMPAGE Direct Connection edition. (I borrowed the roof wing and ground effects for my Rampage.)  Still has the D-C tag on the rad support.  This car is likely a better candidate for a parts donor than repair thanks to rusty 1/4 panels and bad body work. Trans or diff is also piled up.  Still, it could be fixed if you wanted to badly enough.  Selling as-is minus the topper. $600.
1989 DODGE OMNI   SOLD!!!

Incredible factoid:  The Dodge Omni and the 'K' car saved Chrysler Corp. from bankruptcy.  The Omni itself was a decent car as basic transportation, and became cool when Carroll Shelby gave these cars 'Street Cred' by massaging the 2.2L engine.  This car is one that I had set aside to build a GLHS clone.  The original engine in it tossed a rod.  The body is solid, but a couple doors need to be replaced.  (Included in price.)  $OLD!!!
.
1983 FIREBIRD Trans Am SOLD!!!
This Trans Am is pretty much a parts-car.  I actually bought the car for the hood, and the 305-5speed drivetrain.  The engine and trans will be going into the '83 Z/28.  All of the 'not needed' parts on this car are For Sale.
1985 Pontiac Acadian  $OLD!!!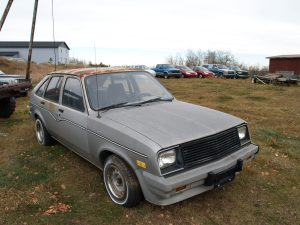 1985 Pontiac Acadian: After almost 40 years, these things kind of grow on you. I'm the second owner. The car was bought new so the owner could drive to nursing school. The engine let go shortly after graduation. Then, her husband backed into it with a gravel truck. (He bought her another new car.)  A used engine was installed, but never started. Selling 'as-is' for $OLD!

The Beretta GTZ  is an example of a 'future classic', not because it set the world on fire with popularity,  but it represented a shift in the definition of a performance car.  The DOHC Quad 4 engine was to be the new performance platform for GM.  Oldmobile put a Quad 4 into a March Indy Car and came within a hair of 200 miles per hour.  This would-be Honda-killer was running a few years ago, but needed a timing chain or a new tensioner to ensure against valve (and engine) damage.  The body is straight and rust- free, but needs bumpers. ( I have a pair included in the price.)  The interior needs cleaning and detailing.  $OLD!!!

SOLD!!!
This car says 'Gangster' the second you look at it. There were 3 things wrong with the car when I bought it. 1. the ignition key was lost. 2.  The electric fuel pump quit. 3. The last license plate had 'Ontario' on it.   The upside was that the body was rust- proofed and undercoated and has no rust.  The windshield later developed a leak and an airborne trunk lid caused some minor damage.  This car deserves to be put back on the road as cars like these are disappearing at an alarming rate due to the high price of scrap metal.  Engine is a throttle-body injected 305 with a 700R-4 overdrive trans behind it.   Save it now price:  $OLD!!!

Future Classic:  1999 Cougar.  Corporate think: offer fewer choices to up shareholder returns.  Drop respected nameplate; i.e. MERCURY.  The Cougar was marketed as an up-scale cousin to the Ford Mustang. The original Cougar concept car was more of a sports car than a luxury pony car.  The Last generation of the Cougar was a return to the original concept.  This car has an excellent body and interior.  The DOHC engine needs valve work as the timing belt slipped and the pistons tagged some valves.   $1500.
*** A savvy friend of mine tells me that this is a Mazda engine and that the Z-tech engine from a Ford Focus will bolt in. I happen to have a 2000 Focus that ran exceptionally well.  (Available at extra cost.)